What is the best cat food? After all, your cat should eat something good to stay healthy for a long time. For our cat food test 2023, we have therefore extensively tested many selected brands and types of wet cat food for you. Here you will find the list of our test winners.
At a glance:
The 3 best cat foods from the practical test
For those who are in a hurry: These three brands from our cat food test did best. You can convince with high-quality, well-matched ingredients, a high meat content and a transparent declaration. And last but not least, these 3 foods were able to convince our 5 test cats in practical tests.
MjAMjAM is our price-performance winner, here you get good cat food with minor defects for little money.
RyCat is our recommendation when it comes to organic cat food. In addition, it is a monoprotein food and therefore suitable for cats with sensitive digestion or food allergies.
In order for your cat to live a long and healthy life, a healthy diet is particularly important alongside sufficient exercise and good veterinary care.
But what food is healthy for cats? That's not an easy question to answer, because cat nutrition is a very complex topic. In addition, the selection of different brands and varieties from cheap to expensive is simply overwhelming and the information provided by the manufacturers is often confusing… This makes it difficult to find the right food.
We are the question "Which cat food is the best?" pursued. In our 2023 cat food test , we took a close look at many different varieties. Our short checks offer a good overview, and we also reveal what is important when it comes to good cat food Contents.
Identify good cat food
The quality of cat food largely depends on the ingredients used. However, the indication of the ingredients, the so-called declaration, is often kept very general, so that, for example, only "meat and animal by-products" are specified. A transparent declaration stating all the individual ingredients is therefore very important in order to be able to assess whether a cat food is good or not.
In general, wet food is healthier and more species-appropriate for cats. Dry food is not recommended because it simply doesn't provide enough liquid – and that's damn important for cats!
In addition, dry cat food usually contains too little meat and too many plant-based ingredients and artificial additives.
Good cat food can be recognized by the following criteria :
High meat content of at least 90%
Contains no grain, corn or soy
Maximum 5% plant-based ingredients, but no "plant by-products" or plant-based protein extracts
No artificial additives such as colourings, preservatives, aromas, flavor enhancers or binding agents
High protein content (6-10% for wet food)
Low proportion of carbohydrates
Cats are naturally carnivores and their entire digestion is designed for that. Therefore, a high proportion of meat and high-quality offal such as heart, lung or liver is essential. Vegetarian or vegan cat food is therefore strongly discouraged!
This is how we rate the Katzenkram wet cat food test 2023
The most important thing in our evaluation in the cat food comparison is what ingredients the manufacturers use for their cat food. That's why we take a very close look at the declaration and the analysis values. Whether and which additives are used is also included in the evaluation.
Points are deducted for too many plant-based ingredients, grains, sugar and plant-based by-products or plant-based protein isolates, as well as unspecified or inferior animal by-products.
Another criterion in the wet cat food test 2023 is the declaration. If the manufacturer has nothing to hide, he should list the ingredients exactly on the can.
Of course, we also have five hard-working test cats who eat each food for one to two weeks. In this way we can evaluate the acceptance and tolerability of the cat food.
Our test winner: ANIfit cat food
The variety that was most convincing in our cat food test is ANIfit.
Species-appropriate recipes with 99% meat content
Special feature: All ingredients from Sweden
Natural: No colors, preservatives, artificial flavors, thickeners, flavor enhancers or other additives
Accurate, 100% transparent declaration
Price: Approx. €4.47 for an 800g can, €3.45 for a 400g can.
In our cat food test, ANIfit first caught the eye with its special declaration. Not only are all the individual ingredients listed, the respective proportion is also given. You don't even have to get a magnifying glass, the ingredients are listed in a clear and easy-to-read table.
The following varieties are available: Power pot, Délice de Coeur, Puterichs Delight, Eismerr terrine, Nautilus ragout, fish à la mode.
The composition of the tested "Powerpot" variety:
chicken muscle meat (54%), lamb muscle meat (45%), tomato powder, rosehip,
dill, calcium, salt (together 1%).
After all, ANIfit has nothing to hide and can proudly present all of the high-quality ingredients. 99% meat content, plus different herbs depending on the variety. Only parts of the animal that are valuable for cats are processed, for example muscle meat, hearts, lungs, beans or liver.
The ingredients are not slaughterhouse waste but selected food-grade pieces. On the other hand, the manufacturer does not use an organic seal, for which the reasons are understandable:ANIfit: The big advantage of Swedish cat food
ANIfit is made in Sweden. The Scandinavian country is known for the strictest animal welfare regulations ever:
Preventive antibiotics are prohibited. Sweden's agriculture uses the smallest amounts of antibiotics in Europe.
Species-appropriate husbandry of farm animals: Grazing is mandatory for cows, stable boxes must be large and covered with straw.
In contrast to Germany, animal welfare is strictly controlled in Sweden, with the Swedish agricultural authority examining entire supply chains.
The feed for livestock in Sweden is also checked and is of the best quality: no other country in the EU uses as little fertilizer, pesticides and plant protection products as Sweden.
The requirements therefore go much further than "BIO", certification would only cause additional costs.
Conclusion:
The best ingredients from Sweden, species-appropriate recipes with a very high meat content and the consistent avoidance of any additives crown ANIfit as the test winner in our 2023 cat food test!
Feed change to healthy feed without attractants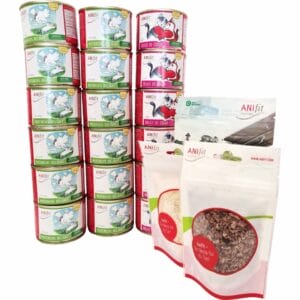 Cats are often very used to their food, which is also due to some tricks of the food industry. Attractants such as sugar, artificial flavors or even flavor enhancers are used here.
Unfortunately, healthy feed without any additives like ANIfit is not easy. Therefore, a feed change can prove to be complicated.
To ensure that your cat's diet transition runs as smoothly as possible, ANIfit has recently started offering a diet transition package . It contains the varieties Puterichs Delight and Délice de Coeur, which experience has shown are best received by cats in terms of taste.
The package is supplemented by two types of natural conversion aids: the new food can be made even more interesting with chicken heart granules or freeze-dried redfish. The following discount voucher can also be used for the feed change package:10% discount for new customers at ANIfit
Click on "Redeem Coupon" below. Put any products in the shopping cart. You can then enter the voucher code there. The discount will then be deducted before the order is placed:
Our list of good cat food – we can recommend these varieties
Several brands did well in our wet cat food test. Here is our list of good cat food with a high meat content :
ANIfit cat food: Our test winner. 99% meat content, no additives. Special advantages: 100% transparent declaration, ingredients from Sweden (best animal welfare standards). To the test report
MjAMjAM cat food: 95% meat content, depending on the type more or less useful vegetable ingredients. Good but not perfect declaration. Overall good value for money. To the test report
Herrmann's cat food: organic cat food from Bavaria, with a high meat content and good declaration. Partly too high NfE values. Quite expensive compared to our test winner. To the test report
RyCat organic cat food: Our tip for organic cat food. Made in Bavaria from organic duck. Mono-protein, therefore very suitable for cats with food allergies. Very high meat content (99%). To the test report
Terra Felis cat food: 90% meat content. The declaration is OK, but not perfect. There are several monoprotein varieties, for example with rabbit meat. Terra Felis belongs to the Nestlé group… To the test report
Zooplus organic cat food: Affordable organic cat food with 95% meat content and transparent declaration. Unfortunately, the ratio of calcium to phosphorus, which is important for cats, is somewhat imbalanced. To the test report
Well-known cat food brands in check
In addition to our 2023 cat food test, we have looked at well-known and popular cat food brands for you. In our check, you will find out everything you need to know about ingredients, declaration and composition in a nutshell.
Well-known and popular wet cat food brands in a quick check:
Almo Nature Daily "with chicken and beef" cat food: Very vague declaration, not even the meat content can be read out. Contains wheat gluten, other varieties also contain vegetable protein extracts. After all, without sugar, colorings and preservatives.
Felix "As good as it looks" with beef cat food: Inaccurate declaration, meat content "44% in the pieces". Contains vegetable protein extracts and sugar. Very low crude fat content. Raw ash value increased.
KiteKat beef in sauce: we took a look at it in an earlier test . Very bad declaration, contains grain and sugar, as well as vegetable protein extracts.
Royal Canin "Sterilized in Jelly" cat food: Very bad, meaningless declaration. Contains wheat, vegetable by-products, vegetable protein extracts and, on top of that, sugar. Apparently no taurine is added. Too many carbohydrates: 23.16% NfE in dry matter, calculated. Crude fiber content too high.
Schmusy "Ragout in Chicken Sauce" cat food: Poor declaration, the meat content is not apparent. Too high a proportion of carbohydrates (12.5% ​​NfE in the dry matter, calculated), determined because of the unknown amount of potato starch contained. After all, no sugar, artificial flavors, colors and preservatives.
Whiskas "1+ with poultry in sauce" cat food: Bad declaration: "Meat and animal by-products (including 4% poultry, 4% fresh meat" – what's the rest…? Also contains grain and vegetable protein extracts. Too many carbohydrates ( 17.94% NfE in dry matter, calculated) Good: No colourings, preservatives, sugar.
MultiFit: Was tested by us ages ago . If we wouldn't do this to our cats today, the food contains undefined vegetable by-products and the declaration is horrible.
Concept for Life "Sterilized Cats in Sauce" cat food: Unfortunately, the wet cat food in the freshness bag has a defective declaration. In addition to "meat and animal by-products" of unknown type and quantity, vegetable by-products are also included. Too high NfE value (18.33% in dry matter, calculated). Pros: No sugar, preservatives, flavor enhancers or soy.
dm Dein Beste "Chicken and Duck in Sauce" wet cat food: is grain-free and sugar-free, no herbal ingredients are specified. The declaration is imprecise, but no coloring or flavorings are used.
Aldi Cachet Classic "Juicy Bites Chicken" cat food: Very inaccurate declaration, 4% chicken is in it – Wow! Also grains and hidden sugars in the form of apple extract. Is extremely cheap – but absolutely not recommended.
Kaufland K-Classic "tender bites in jelly with poultry & heart" cat food: The test winner 2021 in the wet cat food test of the Stiftung Warentest. Our rating: Bad declaration, based on the price probably rather inferior ingredients, hidden sugar in the form of "inulin from chicory". Also too many carbohydrates (18.89% NfE in dry matter, calculated). Funny "test winner"…
Purina Gourmet wet food: The food that we tested earlier is about the same price as our test winner ANIfit. However, Purina has many negative points: poor declaration, vegetable by-products, vegetable protein extracts, sugar…
Conclusion: Just because a cat food is popular or particularly well-known does not mean that it is equally good. We would not recommend the cat food tested in our quick check.
Consistently bad declarations, so that one does not know exactly what is in the can. But probably inferior slaughterhouse waste, otherwise the manufacturers would be happy to specify their ingredients. The meat content usually remains unclear. In addition, mostly sugar, vegetable by-products and protein extracts as well as wheat.
If you are looking for a healthy, high-quality cat food, take a look at our in-depth wet cat food test 2023!
All cat food reviews
Here you will find all the detailed test reports for wet cat food. Are you missing dry cat food in the test? Here's why we don't test dry cat food . We also carry out a thorough pre-selection – feeds that do not meet our minimum requirements (Whiskas, KiteKat, Felix and Co.) do not end up in the test either.
Why good cat food is so important to your cat's health
As with us humans, a healthy diet is probably the most important factor for a long and happy life for cats.
"Your food shall be your medicine and your medicine shall be your food"
This famous sentence from Hippocrates does not only apply to humans – even in cats, you can avert some illnesses with the right food. Diabetes, allergies, dental problems and above all kidney diseases are mostly caused by a wrong diet of our velvet paws. Kidney diseases are the number 1 cause of death in cats in Germany!
But choosing the right food is not that easy. The gigantic range of countless brands overwhelms many a cat owner. Even often misleading advertising does not make it easier…
For this reason, we took a close look at many different varieties in the cat food test. This will make it easy for you to find the best cat food for your cat.
Since you've landed on this website, you seem concerned about what you're putting in your cat's bowl on a daily basis.
Just try our test winners or compare all tested cat food with each other – Here you can find out how you can recognize a high-quality cat food.
Good quality wet food protects your cat's health:
Fewer kidney diseases – these are the most common cause of death in house cats (!) in Germany and are caused by improper nutrition
Fewer metabolic diseases such as diabetes
Healthier Teeth
Less risk of being overweight
A healthier, shinier coat
Less food allergies
Why is there no dry food in our cat food test?
We made a conscious decision not to test dry cat food. Why? Because we believe dry cat food is unhealthy:
It contains far too little moisture: cats cover most of their liquid needs through food. With an average of 10% moisture in dry food, this is impossible
The meat content is far too low in most types of dry food. Cats are carnivores!
Dry food usually contains preservatives so that it has a long shelf life
Artificial flavors, flavor enhancers, colorings and sugar are also usually included
Instead of real meat, animal meal is often used in dry food. Animal meals have been banned for "farm animals" for years – why should we feed them to our beloved pets?
Dry food is like junk food for cats.
And it makes our beloved pets ill : kidney disease, urinary stones, allergies and diabetes are some of the consequences of poor nutrition in cats.
Yes, there is dry cat food with a high meat content and no harmful additives. BUT: The low moisture content alone makes dry food an unnatural and unhealthy food for cats!
Does your cat not eat wet food? Changing the cat's diet is often not easy, especially if your cat ONLY eats dry food. Attractants such as salt, artificial flavors and flavor enhancers make cats downright dependent on dry food. A lot of patience helps – and many a little trick: this is how cats are guaranteed to change their food!
Infographic: 5 things that tell you good cat food
High-quality cat food is often only expensive at first glance
Quality cat food made from fresh, quality ingredients doesn't come cheap. Our cat food test showed that: There is a clearly recognizable connection between good placement and price.
This is of course no coincidence:
The best cat food is not available for one or two euros per kilo.
The price for the raw materials alone is much higher for premium cat food than for discounter food. Fresh (muscle) meat and innards, which are valuable for cats, naturally cost more than inferior slaughterhouse waste such as bristles, feathers, blood, udders or claws.
In order to make feed even cheaper , many manufacturers even turn to corn, soy or vegetable protein isolates. This is difficult for cats to digest – but with a few additives such as flavor enhancers or artificial aromas, they will eat it anyway.
On the other hand, the price of a feed goes up when even organic or food grade comes into play.
But it is not so easy to compare the prices of high-quality and inferior cat food!
On the one hand, cats need less food , the higher quality it is. This can already be seen in the manufacturer's feeding recommendations, which must be stated on the packaging according to the Feed Ordinance.
On the other hand, and this is difficult to calculate: A first-class cat food maintains the health of the animal and saves many a vet bill over the years !
Health also begins with cats with nutrition, which should not be taken lightly.